The Armed Services Institute is involved with a verity of research and advocacy projects surrounding issues critical to both the safety and security of our nation and to promoting positive change in the lives of DoD employees.
TU is pleased to announce an unique and first-of-its-kind military transition program using collegiate athletics. The military transition football program will be comprised of individuals who have a military affiliation (veteran, guard, reserve).
Why football?
"As service members they learn how to function as an individual in the context of a team. Football mirrors that and replicates the comradery of military life. This military transition football program will reinforce those skills and values while veterans prepare for future careers by completing a college degree" stated Stephen Ferguson, Vice President for Military and Corporate Relations.
In addition to mentoring from coaches, some with prior military service, TU is integrating its outstanding, national recognized counseling program to provide both mental health and career counseling services.  TU's Counseling program is accredited by the Council on Accreditation of Counseling and Related Educational Programs (CACREP).
According to Dr. Pauline Patrick, Chair of the Social and Behavioral Sciences Division at TU, "The best military transition programs recognize that the transition from military service to civilian life includes multiple social, physical, psychological and economic challenges. It is necessary to focus on and provide services for the 'whole' person. TU's Military Transition Program will provide counseling, career services, structure, mentoring, education and other support services to assist these veterans."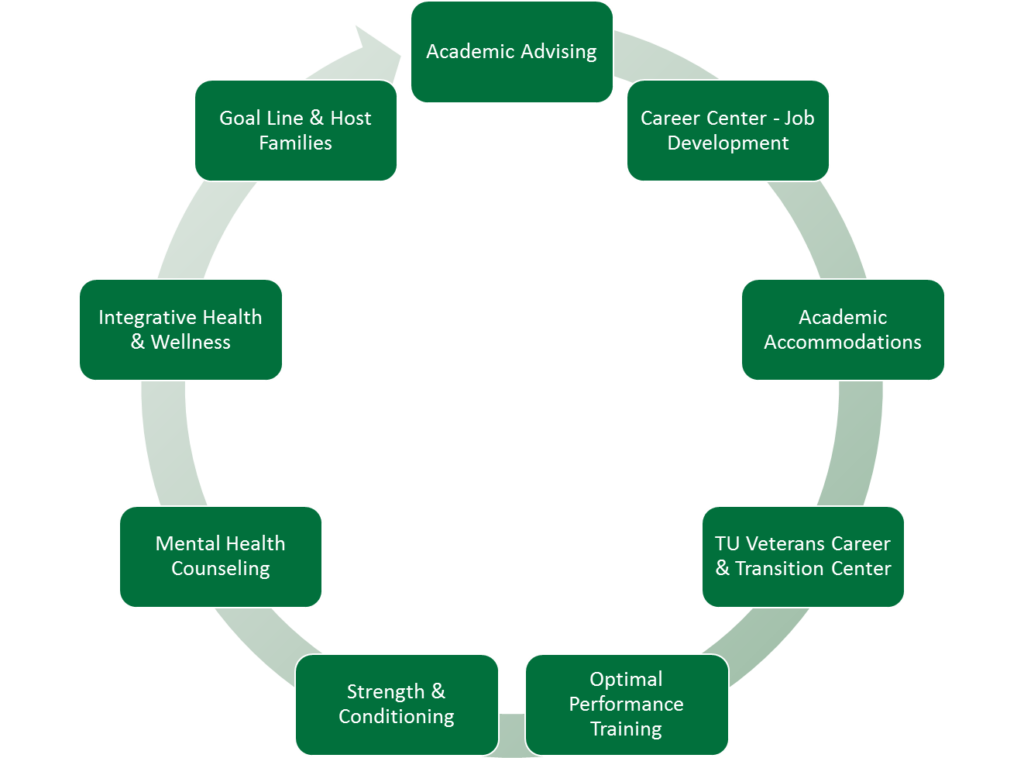 TU has a record of supporting service members and their families.  Their Center for Military Life supports the military community from enlistment through transition to civilian life.  TU is an Air University Associate to Baccalaureate Cooperative (AU-ABC) and a General Education Mobile (GEM) partner.  They are also an equivalent provider of the Defense Acquisition University (DAU) contracting curriculum and have earned Military Friendly Spouse School and the last three years has been given Top 10 Military Friendly designations.
TU is part of the NAIA Division I Sun Conference and will begin its football season Fall 2023.
Thomson Reuters Special Services (TRSS) and Thomas University are pleased to announce a joint project on Gray Zone Warfare.
 Scholars in Thomas University's Armed Services Institute (ASI) are working with TRSS analysts and data scientists to develop new ways for the United States and its allies to respond to the kind of non-traditional warfare that often involves economic coercion, cyber-attacks, misinformation, and provocations by both state and non-state actors.  Stephen Ferguson, Vice President for Military and Corporate Relations at Thomas University stated, "Understanding and operating in the 'Gray Zone' is not new, but is increasingly important in our world today. The Armed Services Institute is pleased to be working with TRSS on this important topic. "
TRSS, based in McLean, Virginia specializes in insider threat, risk management, intelligence collection, and network analysis solutions.  The Armed Services institute is a non-partisan research arm of the Center for Military Life at Thomas University.  The experts in the Institute work to provide fresh insights for the defense community, decision makers, and the general public.  The outcomes of the Gray Zone project will include published articles and white papers, working retreats for invited subject matter experts, and symposia that will be open to the public. "TRSS is excited to partner with the Armed Services Institute to delve into this key area of concern for global security and many of our clients," Jim Dinkins, President, TRSS.  
National Defense Authorization Act (NDAA) 
Thomas University is an academic partner with the National Defense Industrial Association (NDIA) First Coast Chapter.  The NDIA supports and influences dialogue regarding national security through leveraging its stakeholder's knowledge and experience relative to the military and defense industry.
Recently, the NDIA sent a formal request for member feedback and assistance regarding the organization's position on provisions of the National Defense Authorization Act (NDAA), specifically Section 1763 of House-passed Bill.  With regard to Section 1763 of House-passed bill:  Section 1763 is vital to safeguarding the health of our nation's economy and also unequivocally germane to the Defense Department's workforce development capabilities to draw on a pipeline of top talent for employment or further training.
One of the primary objectives of CMIL is to assist transitioning service members with preparing for careers post service, ultimately qualifying their skillset through civilian education and training relative to their respective career field.  Thomas University offers training and academic programming that directly aligns with the DOD's workforce talent and acquisition initiatives. 
As an institution that directly supports the training and educational needs of the Department of Defense, The Thomas University Center for Military Life Advisory Board unanimously voted to support the NDIA's position as it relates to extending the approval of online education for international students.